Are You Seeking Out Teen Therapy But Don't Know Where To Start?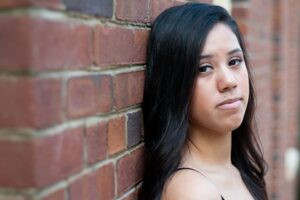 Is your teen experiencing depression or anxiety due to school, family issues, a trauma, or a challenging upbringing? Do they shut down, get agitated, isolate, or cry easily? The transition from childhood to teenager is not always the easiest. Teens want to assert their independence as individuals. Other kids can be cruel with bullying, body image issues may come up, hormones start to rage, self-esteem gets challenged, social media drama causes problems, and drugs and alcohol get introduced. Teen therapy can help!
Getting through to a teenager as a parent or guardian is no easy task. Sometimes it takes someone outside of the family like a skilled therapist or counselor, to get through to your teen.
Covid disrupted everyone's schedule and teenagers have been greatly affected with school being online and not having much social interaction while stuck in the house.
Your Teen Is Not The Only One Struggling, Needing Teen Therapy
50% of all lifetime mental illness begins by age 14.
20% of US teens have a mental health disorder.
32% of teens have anxiety disorders (13-18 years old).
13% of U.S. teens ages 12 to 17 (or 3.2 million) have said they had experienced at least one major depressive episode.
Click HERE for more teen mental health statistics and info.
The positive news is that with proper mental health care, like teen therapy, a teenager can get their life back on track and feel positive about themselves.
How I Work
Depending on the needs of your teen, I use a variety of multiple modalities. But first, what I feel is most important is creating a safe space that your teen feels comfortable opening up in. Building a relationship with your teen is the most important, something I feel moves the therapy positively forward. Some teens like coming to the office for therapy, and some teens feel better doing online therapy. Walking therapy or playing a card game while having the session are also ways to keep your teen engaged. As a teenage therapist,  I also try to stay abreast of the latest trends that teens follow. When in session, relating to a teen's interest will build the relationship faster.
 Modalities I use for teen therapy
Dialectical Behavioral Therapy
 Cognitive Behavioral Therapy
 Acceptance and Commitment Therapy
 Eye Movement Desensitization Reprocessing, EMDR
 Motivational Interviewing
Somatic Therapy
 And More…
Getting Better is Possible
Teen mental health issues like depression and anxiety can be unsettling to parents (or guardians) and very stressful and scary for the teen. Or, your teen may be struggling under the radar. Teens often have a hard time expressing that they need help. They may even act like everything is fine. In reality, they are struggling.
Getting help now, while they are young can set them up to have a stable, successful, and more fulfilling life in adulthood. In my experience as a teen therapist, teenagers are often extremely receptive to counseling. Yes, some teens take longer to open up. But, with time and care, your teen can heal and move on with their life.
Questions On Teen Therapy
My teen barely talks to me, his parent. Why will he talk to you?
It may take a few sessions for your teen to open up, but with consistency and regular meetings, rapport can be built. I put a lot of effort into building relationships with teens and the work does pay off.
How involved will I be in the therapy, their parent?
Sessions are private and confidential between the teen and myself the therapist. As a parent or guardian, I welcome you to join in on the first session but after that, working one on one with the teen is what works best. As far as the information we discuss in session, it's up to your teen to decide what they want to share with you. If there is self-harm or an emergency, this is a time that I will contact a parent or guardian.
I think my teen is being bullied. How can you help?
I am extremely anti-bullying. Bullying in adolescence can lead to detrimental trauma effects on a person. Importantly, building a teens self esteem and ability to stand up for themselves is important. But sometimes adults need to step in to remove the teen from the school or make special accommodations for the teen getting bullied. As a teen therapist, I am aim to support your teen through this process and to help with any school coordinating.
My Clinical Experience With Teen Therapy
I started my career path working at an intensive substance abuse outpatient clinic in Los Angeles. Here I worked with a lot of young adults and teens struggling with drugs and alcohol. I also worked with many members of the LGBTQ community.
Later on, I started working with teens in the California public school district who have Individualized Education Programs, IEP. I currently am still working part time in the high schools and have supported teens struggling with school work, anxiety or depression, sexual abuse, trauma, and more.
Teen Therapy is definitely near and dear to my heart!
Reach Out
My office is located in the beautiful Ventura Harbor, close to Ojai, Santa Barbara, Oxnard, Camarillo, and Thousand Oaks. My hours are flexible with availability after school and into the evenings. I offer a complementary 20-minute phone call to discuss if me working with your teen is a good match. You are welcome to have your teen join the conversation. Feel free to call or send me an email to set up an appointment. I will get back to you at my earliest convenience.
<iframe sandbox="allow-popups allow-scripts allow-modals allow-forms allow-same-origin" style="width:120px;height:240px;" marginwidth="0″ marginheight="0″ scrolling="no" frameborder="0″ src="//ws-na.amazon-adsystem.com/widgets/q?ServiceVersion=20070822&OneJS=1&Operation=GetAdHtml&MarketPlace=US&source=ss&ref=as_ss_li_til&ad_type=product_link&tracking_id=siporaweissma-20&language=en_US&marketplace=amazon&region=US&placement=B0051U7W32&asins=B0051U7W32&linkId=f17f8169e9815a3cbcde1862719da956&show_border=true&link_opens_in_new_window=true"></iframe>
Location
5550 Telegraph Rd. Ventura, California 93003
Located near Ojai, Santa Barbara, Oxnard, Camarillo, Thousand Oaks.
Also seeing clients for online therapy all over.